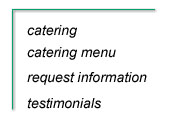 WEDDINGS / SPECIAL OCCASIONS
The Holiday Inn Cleveland South provides an elegant dining experience, personal service and specially priced wedding packages to fit every budget, and that you design.
The Perfect Wedding Package Holiday Inn Cleveland South

Personal Touches
All of Our Wedding Packages Include:
Bar Arrangements, choice of Hors d'oeuvres & Sit Down Served Dinner

Champagne Toast for the Head Table

Complimentary Cake Cutting

Mirrors and Votives Centerpieces

Selection of Napkin Color

Complimentary Overnight Room Accommodations for the
Bride & Groom

Special Overnight Room Rates for your guests

Complimentary Shuttle Service to the airport

Complimentary Hospitality Suite for the Bridal Party
---
Bar Arrangements
Select One
Call Brand Bar
Smirnoff, Bacardi, Beefeaters, J&B, Jim Bean, Black Velvet and Seagram7
Selection of Domestic Beers, House Wines & Soft Drinks
Evening Coffee Service
Four-Hour Call Brand Bar Service $28.80 per person
Premium Brand Bar
Absolut, Bacardi, Tanqueray, Dewars, Jack Daniels, Canadian Club and Seagram 7
Selection of Domestic Beers, House Wines & Soft Drinks
Evening Coffee Service
Four- Hour Premium Bar Service $32.80 per person
* Add $ 6.45 per person for Five–Hour Service*
---
Hors d' oeuvres Selections

International Cheese Display
Display of Assorted Cheeses from around the World presented with Fresh Fruits, Assorted Crackers and Crostini
& Fresh Garden Crudités with Assorted Dips
$4.95 per person
Jumbo Shrimp Display
Jumbo Shrimp with Fresh lemons and Cocktail Sauce
$120.00 per 50 pieces
International Cheese Display
Display of Assorted Cheeses from around the World presented with Fresh Fruits, Assorted Crackers and Crostini &
Selection of Two Stationary Hot Hors d' oeuvres
Swedish Meatballs, Crabmeat Stuffed Mushroom Caps, Chinese Egg Rolls with Mustard and Plum Sauces, Breaded Parmesan Artichoke Hearts, Coconut Battered Shrimp, Phyllo Triangle with Spinach and Feta Cheese, Santa Fe Chicken in Beggar's Purse
$7.95 per person
Selection of Four Butler Passed Hors d' oeuvres
Bacon Wrapped Water chestnuts, Chinese Egg Rolls, Breaded Parmesan Artichoke Hearts, Coconut Battered Shrimp, Phyllo Triangles with Spinach & Feta, Santa Fe Chicken Beggars Purse, Italian Cheese & Meat Skewers, Mini Crab Cakes, Petite Quiche, Fancy Canapés, Assorted Finger Sandwiches.
$7.95 per person
---
Entrée Selections
Priced Per Person
Select Up to Two Entrees
Chicken Tosca – Chicken Breast sautéed in an Herb Parmesan $27.95
Batter with Sherry Butter
Chicken Marsala – Boneless Breast of Chicken sautéed, finished with $28.95
Rich Marsala Wine Sauce & Laced with Mushrooms
Chicken Cordon Bleu – Breast of Chicken Stuffed with Black Forest $29.95
Ham & Swiss Cheese Lightly breaded and finished with a Chicken Veloute Sauce
Chicken Piccata – Sautéed Chicken Breast with Lemon and Capers $29.95
Prime Rib Au Jus – Twelve-Ounce Slow Roasted Prime Rib finished $32.95
With Au Jus and Presented with Horseradish Sauce
Herb Encrusted Sliced Beef Tenderloin – Tenderloin Slices $37.95
Served with a Cabernet Sauvignon Sauce
Veal Oscar – Veal Scaloppini topped with Crabmeat and Hollandaise $29.95
Sauce served with Asparagus
Salmon with Lemon Artichoke Sauce – Bronzed Salmon pan $30.95
Seared and scented with a Fresh Lemon Basil Butter Sauce with Artichoke Hearts
Baked Tilapia – Baked with Parmesan Cheese Crumb Topping and $28.95
Lemon Pepper Sauce
---
Duets
Herb Roasted Sliced Beef Tenderloin & Salmon En Croute $37.95
Slow Roasted Beef Tenderloin with Bordelaise Sauce & Baked Salmon
With Spinach & Mushroom Duxelle served with Cucumber Dill Relish
Herb Roasted Sliced Beef Tenderloin & Chicken $35.95
Tenderloin rubbed with Fresh Herbs and slow roasted, sliced and finished
With a Pinot Noir Demi Glace paired with Chicken Tosca

*Vegetarian Meals available upon request*
---
Dinner Accompaniments
Selection of Salads
House Salad
Colorful Selection of Seasonal Greens, Cucumbers, Tomato and Croutons with House Dressing
Strawberry Mandarin Orange Salad
Mixed Greens with Fresh Strawberries, Red Onions and Mandarin Oranges with Sweet & Sour Poppy Seed Dressing
Gorgonzola & Walnut Salad
Mixed Greens with Walnuts and Gorgonzola with House Vinaigrette
---
Selection of Vegetables

Asparagus Squash Medley
Vegetable Medley Green Beans with Squash Bundles
Green Bean Medley Broccoli with lemon Butter Crumbs
---
Selection of Starches

Au Gratin Potatoes Wild Rice
Dauphinoise Potatoes Garlic Mashed Potatoes
Oven Roasted Red Skin Potatoes Parsley Buttered New potatoes
---
Upgraded Amenities
Assorted Mini Pastries
$7.95 per person

Assorted Cake Display
$10.95 per person

Champagne Toast for Guests
$18.00 per bottle

Cordial Bar
With Evening Coffee Service
(Priced on consumption)
Guarantee Policy
Final meal guarantees (the guaranteed number attending the function) must be received by the Catering office, 2 week in advance of the function and are not subject to change. In the event the guarantee is not received within 2 week, the last number of guests reported will constitute the guaranteed number. The exact number given will be considered as the guarantee you will be charged for, unless the number guaranteed is exceeded by the number served. Holiday Inn Cleveland-South will provide seating and have food available for up to: 5 % over the guaranteed number. Should the number served fall below the guarantee, we will charge the full guaranteed amount.
Deposit Policy
On all wedding functions, an advanced deposit of $10.00 per person is required. A secondary deposit of the same amount will also be due prior to event date. The final payment will be due in full 2 weeks prior to your function based on your final guaranteed number of guests.
Beverage Policy
The Holiday Inn Cleveland-South as licensee is responsible for the administration, sale and service of alcoholic beverages, in accordance with the prevailing liquor statues. It is a policy that the Holiday Inn Cleveland-South supplies all liquor, beer and wine. It is further our policy to require identification of all guests attending a function serving alcoholic beverages. All hosted bars are subject to applicable sales tax and a 20% service charge.